Shütikk:
"The Oatmeal cookies were good, but I needed to satisfy a chocolate craving and made a quick batch of the toffee bars mentioned earlier. After reading through the comments and scanning some recipes from cookbooks, I made some revisions to the Tasha Tudor recipe and came up with these. This version is closer to Maida Heatter's.
Just for fun, I covered half of the bars in Dove milk chocolate and half in Ghirardelli Chocolate Covered Caramel Squares. The Dove chocolate melted nicely as expected. The Ghirardelli Caramel Square just kind of sank into the top and melted into a chocolate/caramel mass. Luckily, after a stint in the refrigerator, the caramel solidified, so the half made with caramel squares had an interesting chocolate/caramel top.
I've seen variations on this recipe hundreds of times and am happy I finally got around to trying it. It's definitely a good cookie for showcasing flavored or high quality chocolate, which is good, because these days I don't like chocolate unless it's somehow combined with a cookie."
One final note. I typed up the full recipe below, but I actually made a half batch and used an 8 inch square metal pan. I took mine out at 18 minutes, but you could go as long as 20.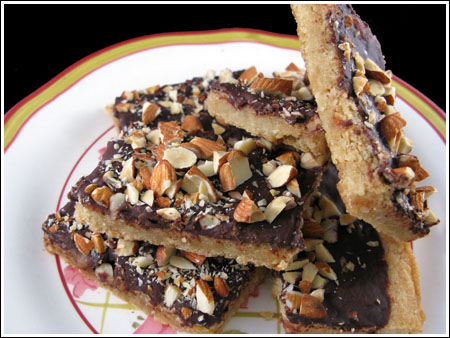 Toffee Bars
Based on recipes from Tasha Tudor , Maida Heatter and Wellesley Cookie Exchange
2 sticks (8 oz) unsalted butter, softened
1 cup light or dark brown sugar
1/4 teaspoon salt
1 egg yolk
1 teaspoon vanilla
2 cups unbleached all purpose flour
8 oz good quality dark or milk chocolate, chopped up (or some caramel squares)
1/2 cup whole natural almonds, toasted and chopped **
Preheat the oven to 350 degrees. Grease a 13×9 inch metal pan or line with non-stick foil.
Cream the butter, brown sugar, salt, egg yolk and vanilla. Stir in the flour. When flour is blended in, press the dough evenly into the baking pan..
Bake for 20-25 minutes or until lightly browned and set. Immediately cover with chopped chocolate. When the chocolate has softened, spread it with a knife and sprinkle with chopped nuts. Let set for about 20 minutes, then score and cut. For firmer bars, score, then chill before slicing.
Makes 1 13×9 inch pan.
** To Micro-Toast, lay almonds on a paper towel and cook on high for two minutes. Let cool completely, then chop."
INNEN: http://www.cookiemadness.net/?cat=220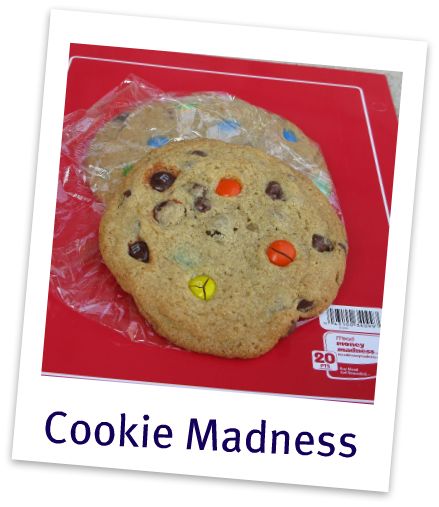 "Scary City Cookies
1 stick (114 grams) unsalted butter
1/2 cup (98 grams) granulated sugar
6 tablespoons (78 grams) packed light brown sugar
1 teaspoon vanilla extract
1 large egg
1/2 teaspoon salt
1/2 teaspoon baking soda
3/4 cup (92 grams) all purpose flour, lightly spooned and swept 3.2
3/4 cup (75 grams) barley flour
Handful of semi-sweet chocolate chips
Handful of M&Ms
Preheat oven to 325 degrees F. Line a large, un-insulated cookie sheet with parchment paper.
Beat butter and both sugars in a mixing bowl, using an electric mixer, until light and fluffy. Beat in the vanilla and egg. Add salt and soda and beat well, scraping sides of bowl and making sure there are no stray lumps of soda. Add both flours and stir by hand until flour is absorbed. Stir in chocolate chips and M&Ms.
Divide dough into 6 equal sections and shape into 3 inch discs. Place 3 discs, spacing as much as possible, on each cookie sheet. Bake for 22-25 minutes or until cookies have brown edges.
Makes 6 big cookies."